Carvana Insurance
A Simpler Insurance Solution.
Effortless to buy and personalized to you, Carvana Insurance built with Root saves you time and energy so you'll be one step closer to getting your new car. Let us handle the nitty-gritty and get you coverage in 3 clicks™.
Coverage in 3 clicks™
Easy, fast, and personalized insurance built just for you.
We are unable to play your video, please try reloading this page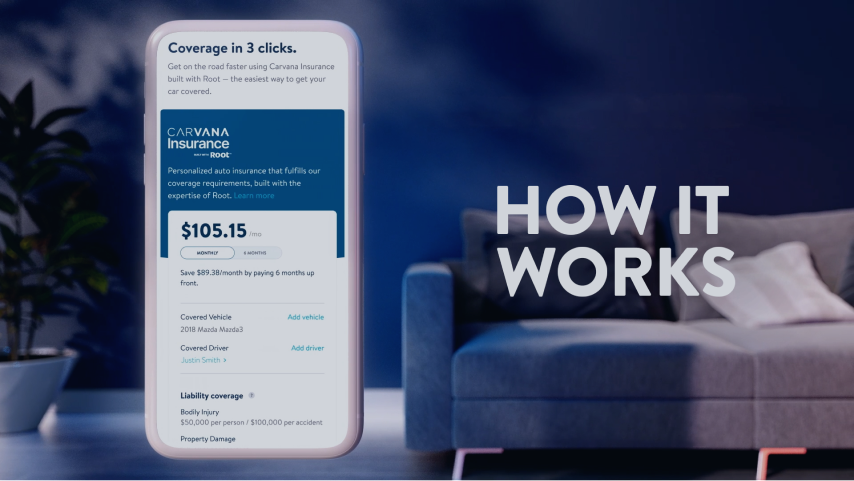 A real quote without the work
Receive a real, personalized quote during your purchase. We already have your info, so no filling out endless forms here.
From to-do to done
Select your coverage and confirm payment to get covered. Once you meet our insurance requirement, we'll automatically upload your proof of insurance so you'll be one step closer to getting on the road.
Coverage you control
Once you're covered, manage or personalize your policy, file a claim, and make a payment online, all on your terms.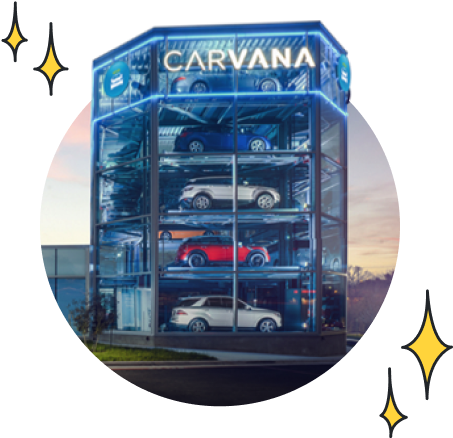 How can we help?
Check out some answers to common questions about Carvana Insurance built with Root.
We believe that getting the auto insurance you need should be easy, and we've simplified the process so you can get on the road even faster with Carvana Insurance built with Root. While traditional auto insurance shopping can be time consuming, we've made it quick and easy for you!

During your purchase process, we provide you with a real quote without the hassle of filling out forms. We use information about your vehicle, plus what you provide to us during the purchase process, to present you with a personalized quote. ​​Once you're covered and confirm payment, we'll automatically upload your proof of insurance so you're good to go.
Carvana Insurance, underwritten by Root, is available to eligible customers who are in the process of buying a car from us. After scheduling delivery, you'll be presented with a personalized, real insurance quote from Root. Buying it is as easy as 1-2-3!
No. Root Insurance is the carrier and Carvana serves as the seller.
We're working hard to bring Carvana Insurance to as many of our customers as possible. Most, but not every, customer or vehicle is eligible for Carvana Insurance. If eligible, you'll see a Carvana Insurance offering during your purchase process and a quote upon placing your vehicle order. Carvana Insurance built with Root is currently available in the following states: AL, AR, AZ, CO, CT, DE, FL, GA, IA, IL, IN, KS, KY, LA, MD, MO, MS, MT, ND, NE, NM, NV, OH, OK, OR, PA, SC, TN, TX, UT, VA, WI, WV. If Carvana Insurance isn't available to you, you'll see a different insurance-related offering during your purchase process.
If you ordered a car from Carvana and haven't received your vehicle, check out your personalized quote by going to your Order Placed Dashboard.
Insurance is a requirement to drive in all 50 states, and in many cases required to process vehicle registration. Since we complete the registration process on your behalf in a majority of states, we ask you to provide us with valid proof of insurance documentation in order to accept delivery of your vehicle. Carvana is making it easy to get coverage in 3 clicks™! To learn more about our insurance requirement, check out this Support Center article for more details.
You can conveniently manage your policy in the Root app or by contacting Root directly at 833-360-2743 Monday–Friday from 9am–8pm ET. Filing an auto claim 24/7 online or in the app is easy and only takes a few minutes. Visit Root's claims page for more information or call Root's claims department at 866-980-9431.
Browse our full Support Center to learn more.
Insurance underwritten by Root (which includes Root Insurance Company and Root Property & Casualty Insurance Company) and produced by Carvana Insurance Services, LLC.